Happy St. Patrick's Day, dear readers!
I've been thinking about making this blog more of a scrapbook of my life, my writing, and travels. Tonight I'd like to delve into the past. I'm half Irish, my great grandma immigrated to the US in the 1930s. She was the only one in her family to immigrate and I still have family in Ireland. I always loved listening to her Irish brogue and her tales. She was a storyteller and loved to read (I guess I know where I inherited that from! Haha).
Anyway, when I was in elementary school, every time I was on break I would go to the Senior Center with Nan (dad's mom), we'd meet up with Great Grandma (she was mom's grandmother - Nan and Great Grandma got along great), and we would all play Scrabble or participate in events through the Senior Center. I always loved the tea parties. However, every once in a while I would go home with Great Grandma instead of Nan.
Great Grandma didn't drive. We would ride the Rambler, the community bus, back to her house and I'd eat dinner with Great Grandma and play Scrabble with her until either dad or Nan would pick me up. She'd always make some sort of hamburger with potatoes and then would have a pastry for dessert. Sometimes she would make the best Irish soda bread. Sometimes I would go outside and explore her tiny backyard. I remember always dreaming about jumping the fence to jump in her neighbor's small pool. I loved those evenings.
Those evenings with Great Grandma and even evenings with Nan were always fun. I always enjoyed spending time with both of them. Great Grandma passed away in November 2009, age 99.5. She would have turned 100 on May 3, 2010.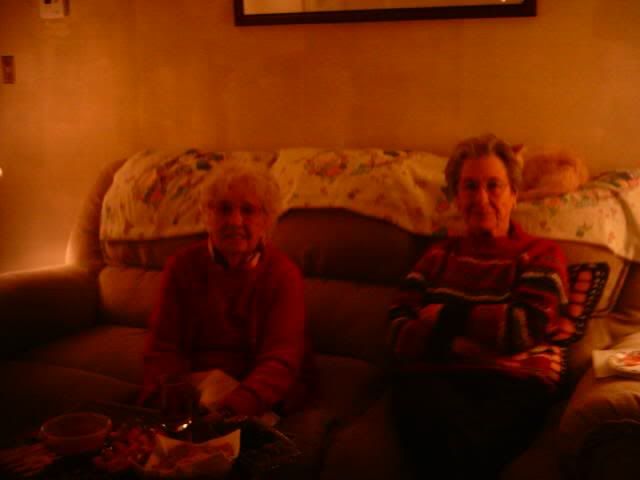 Nan and Great Grandma.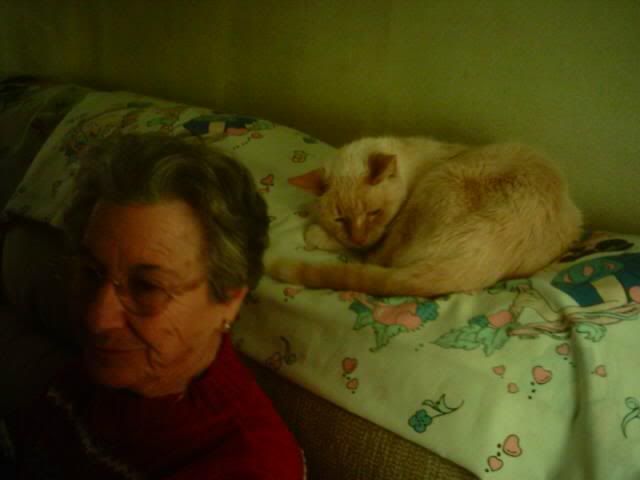 Nan and Woo.
Both of these pictures were taken in 2005. One of these days I will have to go through old pictures and scan them.