Happy first day of National Poetry Write Month (or NaPoWriMo)! This year I will be following prompts on
NaPoWriMo Prompts
and prompts on Writing.com - they will take on the theme of travel because this is the month I am going to get As Far As The Eyes Can See Done, then self publish on Amazon by mid-May. I'm looking forward to getting the book done.
I'm going to share the prompt from the NaPoWriMo site and the poem I wrote with that prompt:
Today, I challenge you to write a
lune
. This is a sort of English-language haiku. While the haiku is a three-line poem with a 5-7-5 syllable count, the lune is a three-line poem with a 5-3-5 syllable count. There's also a variant based on word-count, instead of syllable count, where the poem still has three lines, but the first line has five words, the second line has three words, and the third line has five words again. Either kind will do, and you can write a one-lune poem, or write a poem consisting of multiple stanzas of lunes. Happy writing!
The sweet face of Moomins
welcomes me today
for scones, rice, and tea.
It's a change of pace
from dining alone,
and the Moomins don't judge

to why you're traveling alone—
no boyfriend, miss?
They just smile for selfies.
I haven't laughed so long,
others around me
enjoy their meals with Moomins,

laughing and gossiping with bears,
but it's fun—
this only happens in Japan!
Steamy white rice with cinnamon
of Moomin's face,
is devoured quickly without sound.
The Moomin Cafe is in Tokyo, Japan and it is one place I would LOVE to visit. I have no interest in China because to me it doesn't look appealing (and I can't eat most of their foods since I can't eat pork), but Japan absolutely looks gorgeous. I'd love to visit and I would stop by this cafe since I love stuffed animals. This is right up my alley. Here are a few articles about the Moomin Cafe (and some pictures from sites)!
https://www.moomin.com/en/places/
http://www.cnn.com/2014/05/15/travel/japan-moomin-cafe/
http://www.japantimes.co.jp/restaurants/restaurant-guide/other-tokyo-central-area/moomin-bakery-cafe/#.Vv7ytvkgu1s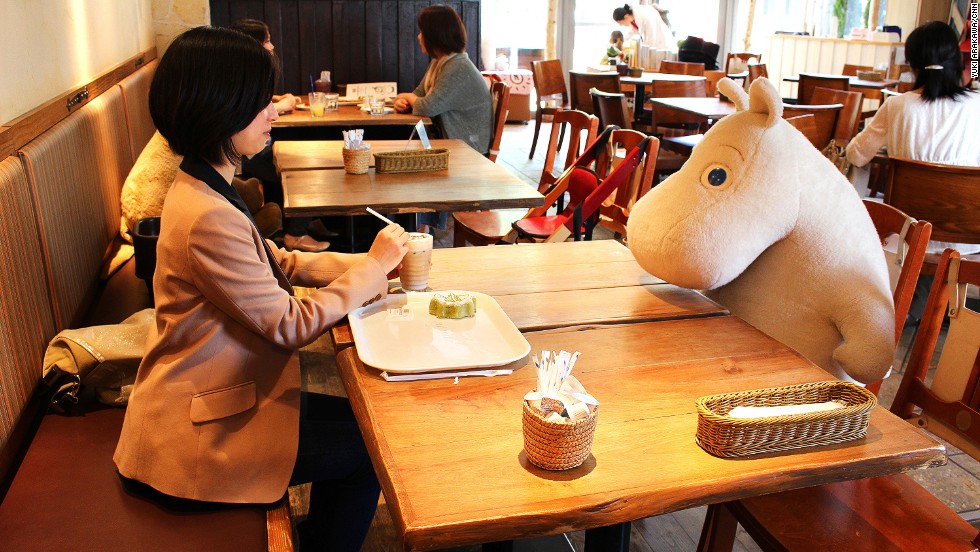 How cute is this? :3