Welcome to this month's The Cephalopod Coffeehouse, hosted by
The Armchair Squid
! I hope you enjoy yourself and will want to read the books I've selected.
I've chosen two books this month because it seems like the books I read this month have had to do with overcoming some sort of trauma or health challenge (which led to some sort of trauma).
I'm first going to review
Speak
by Laurie Halse Anderson.
Speak
is a young adult novel told in the form of a diary. By being in diary format, you can see the trauma first hand. Melinda Sordino starts her diary right as she calls the cops after a party in late August, before her freshman year of high school.
After the cops bust the party, Melinda's friends won't speak to her and she cannot speak about the trauma she went through. She won't tell the readers what her trauma is, but it effects her grades, her attitude,her sleeping, eating, and the dialog is jumpy from the trauma she has experienced. Through the novel we see how she did gain one friend, but lost that friend since she wanted to join the popular crowd (The Marthas), and how Melinda begins to love her art class. It is through her art class and her science partner, David, that Melinda starts to feel better. By the end of the novel, she does open up about her trauma and starts to talk to her art teacher (which another novel was written for this, I haven't read it yet).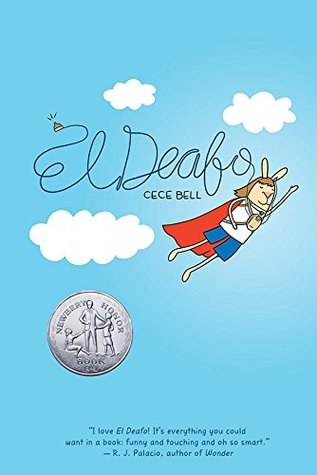 El Deafo
by Cece Bell is a graphic novel for children, though I think it's important for everyone to read. I was stunned about what Cece's character went through in the 1970s and 80s because she was deaf.
It is a memoir told in graphic novel format of a girl who becomes deaf after a brief illness.This book takes place between 1974-1980 and we see how a young girl transforms from kindergarten to fifth grade as a deaf student. I was stunned how people with disabilities were treated back then! Though, it's not entirely different today, sadly. By the end of the memoir, El Deafo begins to see her disability as a gift - she starts to see her deafness as something not be ashamed about, but should grow with it.