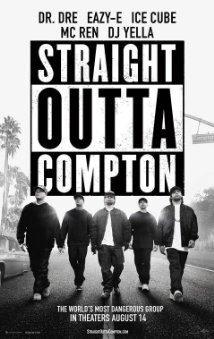 From bigpicturebigsound.com.
Yesterday in the late afternoon (4:30 PM) I went to see
Straight Outta Compton
. I actually arrived a bit early (4 PM) because I was reading that there was going to be security checkpoints nationwide during the screenings. Why? They feared violence with some of the scenes that were portrayed in the movie and of course, the infamous gang related fears (
Increased Security For Newly Released Straight Outta Compton
). So here I was expecting to be patted down, that I packed light and took everything out of my purse before I left my house. I was also expecting the theater busting out of the seems with people. Nah. There were no security checkpoints and at that point, I was one of the few people in attendance. I could sit anywhere and I did pick a good seat. :) The theater did get pretty crowded, though.
Straight Outta Compton
is a biopic or a biographical film about the start of N.W.A., how Dr. Dre, Ice Cube, MC Ren, and DJ Yella expected to make all this money from their fame after Eazy-E signed with Jerry Heller, a manager that managed Elton John, ELO, REO Speedwagon, and a bunch of others; but they found out that they were screwed (to put it nicely) in the process and Heller wasn't much help (typical industry businessman). Heller essentially broke N.W.A. up because Ice Cube wouldn't sign the contract (which he was smart by not doing so - Heller would not let him speak to a lawyer, or so the film depicts, and that was the case for the other members), Ice Cube saw it was a bad deal and traveled to New York to work with Public Enemy's production team for his solo career. From there we see how gangsta rap became popular, the rise of Suge Knight, the rise of Death Row Records, Dr. Dre starting Aftermath Records (which is the record company I'm familiar with - when I was 11-13, I was a HUGE fan of Eminem and that's how I knew about Dr. Dre), and the increasing tensions of the War on Drugs in the early to mid 1990s.
I hate spoilers, I will not give spoilers in this review. I would recommend
Straight Outta Compton
, even to those who aren't fans of gangsta rap. I will admit I went to see it because after reading about
Straight Outta Compton
, Suge Knight killing someone over the film, which led to Knight's numerous legal issues, I wanted to see it. I was curious about why Suge Knight would run over someone and the movie answered it. All I can say is, "dang, he is one mean guy!"
Straight Outta Compton
runs for a little over two and a half hours. It was 7:17 PM when I finally left the theater (the move started, after previews, at 4:40 PM), but the way F. Gary Gray directed the film was amazing. The director used actual news footage from news reports about the popularity of N.W.A., the Rodney King beating, as well as actual footage of the beating, news footage of the riots, and actual footage of the Los Angeles riots after the police officers were acquitted for beating Rodney King. You could see at that moment that things had come to a boiling point, moreso than when N.W.A. played
this song
in Detroit and caused a riot. With Rodney King, you could tell this was felt nationwide. F. Gary Gray did a great job of capturing it and comparing it to today's racial climate.
Another part of the movie that surprised me was in the beginning. Eazy E is going to a dope house and a fight is about the ensue. However, someone in the neighborhood lets out a whistle to alert everyone that the DEA is coming. I was shocked to see that back in 1985 (the movie starts in 1985) that the DEA was using tanks with battering rams to get into dope houses as part of the war on drugs. In the movie, it looked like the battering ram had a smiley face graffiti'ed on it. That battering ram tore down the house Eazy E was in (he managed to escape) and there was just a lot of fear in that scene. I tried looking for pictures of it, but the closest thing I found were articles. The one article did have a picture,but I couldn't make out the battering ram.
LAPD Battering Ram (1986)
;
A Ram At Rest (1986)
. Though, here is a tank that has a battering ram that looks like it has a smiley face.
The film stars O'Shea Jackson, Jr., which is Ice Cube's son, and he plays his father. Corey Hawkins as Dr. Dre, Jason Mitchell as Eazy-E, and Paul Giamatti as Jerry Heller. Each actor portrays their characters well. I thought Jason Mitchell did a great job of rapping "Boyz N Da Hood," but he could have been lip-synching. Regardless, I now like that song because in the beginning, Dr. Dre had to teach Eazy-E how to keep beat to the music and rap to the music. The way he sounds, I like it.
I also loved hearing the other songs everyone loved in middle school (Dr. Dre and Snoop Dogg's Ain't Nothing But a G Thang and Tupac's California Love).
There are a few tear-jerkers in
Straight Outta Compton
. You will feel a lot of emotion from sadness to anger to laughter, but despite the roller coaster of emotions, I would recommend seeing it. It is definitely an important film in our history.
By the time I did leave the theater, it was teeming with people to see
Straight Outta Compton
, and the police were there for security check points. I guess I went at the right time!
Correction:
one of my friends sent me this:
"

Slight correction to your Straight Outta Compton review: Ice Cube didn't start Public Enemy. PE was in existence before NWA was, and was based in New York. When Ice Cube was ready to start his solo career, he flew out to NY to work with PE's production team, the Bomb Squad. I don't know how the movie portrays this, but there have been numerous articles out recently between the anniversary of Cube's solo career starting and PE releasing a new album that have retold the oral history of the making of "AmeriKKKa's Most Wanted"; I thought I'd clear that up for you."