Last night I was thinking before I settled into the covers that every once in a while I should take a walk down memory lane. There are a few trips from my past - way before I had a Blogger (they still might be on LiveJournal - some are on writing.com) and I would love to share them with my readers. Some are taken from other sources - pieces I wrote as an older teen and young adult (20 and 21).
What spurred this thought? Friday when I was going to the Camera Shop in Bryn Mawr, a father and his young children hopped onto the 105 to go to Ardmore. I asked him if he knew where this Camera Shop was and I began describing the location for him. He said it was further up. I'm not really a nosy person, but I couldn't help listening in when he was speaking to his two young sons in another language. I don't know Turkish, but I could hear it was Turkish because it has some Arabic sounds to it.
His two young boys were adorable. They were pointing to signs and getting really excited about something. I smiled and then I bravely said, "Turkish?" He looked shocked and said, "How did you know? Do you speak it?" I replied, "No, but I took German and Arabic and I notice some similarities. I've heard Turkish before." He said, "Ah, not really close to German, but we do borrow some Arabic words." I laughed and said, "I think I just associate it with German because when I was in Germany, I met a lot of Turkish people and ate at some really good Turkish restaurants." He smiled and said, "Yeah, there are a lot of Turkish people in Germany. That's wonderful you could pick this up - most people can't."
This made me think of my Germany trip in 2007. I know I've mentioned that before in some of my posts, but I never really posted much about the trip. Last year I found old entries on Writing.com in my blog there. I edited it and printed it out for German table I did for the library's cultural night. I edited it even more and put it on LinkedIn. I'm going to share with you what I wrote in 2007 (and edited in 2014 and 2015):
Jessica's Adventures in Germany, Austria and Switzerland
The Flight -- March 30, 2007
Herr Skonier, Wesley, Herr Skonier's friend, the rest of the group and I met at the airport at 2pm. We waited around with our parents for about a half an hour just so all the information the airlines needed (when you're traveling abroad you have to fill out these sheets) and to say goodbye. All parents left at 2:30ish and we proceeded to check in to the airport and go through security. It took us about an hour to get through, then we sat down in the waiting area. I sat with a classmate and his friend. He introduced me to his friend and he seemed alright at first. We had to stay in groups of three to walk around the airport and for traveling; we walked around the airport for an hour. We came back, I ran into a friend and she gave me her address. I didn't have time to write a lot of postcards, but I took a few home so I will just send it to her through US mail. Timmy, Matt and I then played cards; someone taught us how to play poker, but my classmate and I were a little lost.
Then it came time to board. I hate flying; I have a fear of it. I was nervous, but once everyone got settled I realized I was sitting next to Herr Skonier. It was so cool, the magazines were in German (with English underneath… but I tried to translate as much as I could) and same with the announcements. I even ordered my food in German. I was in my glory -- I understood a lot and I increased my knowledge too. However, since I was sitting next to Herr Skonier, whatever I didn't understand he translated for me. I'll have him next year for German; he taught me a lot of new words too. The international flights were smoother than the continental, my ears are always in pain during takeoff, during and landing. On Lufthansa it wasn't a bad taking off and in flight, but landing was torture. It felt like my ears were going to explode. I only took a half an hour cat nap on the plane, but I'm glad I didn't really sleep that much because everyone who slept was jet-lagged.
We finally left the Frankfurt airport at 9AM (3AM our time) and went on the bus. The bus ride to Rothenberg was a few hours long, but we had an half an hour stop for breakfast. The food was very good; the sparkling mineral water had a weird taste; it was in a cool bottle that I took home. We then boarded the bus and were on for 1.5 more hours; the scenery was breathtaking --- many mountains, hills, greenery and quaint houses; the definition of a postcard and fairytale.
We arrived at Rothenberg at 1
.
It was later than expected because German traffic is heavy on Saturday. The town was the Altstadt or old city; it was very medieval. My traveling buddies were Timmy and Matt. We then went off to explore the town, first we stopped at the gegentur (where they hung people) to tour it, then the torture place and walked around the city. There were many neat stores, including the Wienachten Markt (Christmas store) where I bought my mom's Christmas ornament. We then went to a sword shop and there was this one sword I wanted that was cheap, but to have it shipped back would cost more than it was to buy. I bought a WWI German flag, though, which was very cool.
Timmy, Matt and I then went to the Geschenk Markt (Gift shop) and I decided I would get a picture with a random German here. While walking around I spotted this German boy that looked like Jacob (my ex-boyfriend, though Jacob wasn't my ex at that time: he was still dating my old good friend) and I went over to him and asked if I could take a picture with him. He agreed; Timmy was about to take the picture in the shop, but the clerk came up to us and told us to take a picture outside. I waited for the boy to get done shopping with his family and once he was done we went outside and had a picture taken. I thanked him, but I forgot to ask his name! I thought he was cute, though he wasn't really talkative. Then Timmy, Matt and I walked around the town. Walking the cobbled streets were breathtaking as I took in the scenes of the water fountains, the brick and stone cottages, and the quaint little shops. It was such a quiet town and so peaceful. We watched the Glockenspiel, and then the pigeons hanging out by the fountains. As the sun began to set, Timmy, Matt and I went back to the hotel for dinner. The dinner that hotel served was excellent.
Days 2 and 3 -- April 1 and April 2
We only stayed a night in Rothenberg. On the morning of April 1 before we left we took a tour of the Kriminal Museum. That was awesome; I took a lot of pictures. I really enjoyed the torture devices that were used, especially how they disciplined in the classroom. It reminded me how nan said they were punished (being hit lightly with a ruler). After the tour was over, I walked around the gift shop and bought a postcard and I bought myself a book of the different torture methods in German. =] I can't wait to read more and translate. Translating really does the trick in learning more German. After we all finished walking around the gift shop, we were on the bus for two more hours.
We then stopped at Dachau. That place was REALLY chilling. I couldn't believe I was actually inside the Koncentration Zelt (Concentration Camp) experiencing it first hand. We stepped into one of the barracks, the one that had all the displays and the movie. The one propaganda display had a the same exact poster of Hitler that is in my history book. I took a picture of it; it was surreal because I was actually looking at the real propaganda in person. We then went to the movie room to watch the movie about the KZ. It was very somber, but very informational. We then walked around the grounds some more and then left after about 2 hours.
We arrived in Munich about an hour after we left the KZ. We checked into the hotel and while waiting I took a look around. Frau Irish wanted me to see what they call the elevator in Germany (the book gave us Aufzug, but there are other words) and sure enough they used the book's word and I took a picture to show her. Tina, Emma and I then went to our room and it was very modern. We unpacked for about a half an hour, then went to dinner. I sat with my classmate (actually I sat next to him) and his friend (he sat across from my classmate). The dinner wasn't bad, but the hotel wasn't prepared for our group so they ran out of food. After dinner a few of us decided to take the S-Bahn to the city of Munich (we were forty five minutes outside the city... we were actually in a little town called Feldkuchen). We grouped up with a family that came on the trip with us. They were a nice group of people, I really liked the mother. The daughter had a problem with my classmate's friend (that should have been my warning point, but like in a story there always has to be foreshadowing) because those two are in the same German class and he picked on the daughter. She called him the spawn of Satan. Anyway, it took about twenty minutes to walk to the train station and about another forty minutes on the S-Bahn to get to Munich.
Once we arrived in Munich, Kai (our tour guide the whole trip) showed us more of the city that we wouldn't see the next day with the city tour guide. She also took us to the Hofbrauhaus, but since we were following US laws for alcohol, we couldn't stay in long. It was just so amazing watching all the Germans drink and dance around. I also took a picture of the band playing the traditional music. We then walked around the city some more and stopped at a pub to get drinks (non-alcoholic of course). There my classmate's friend was dared to chug malt vinegar. He (there were three people with his name on that trip… the one that dared the other one is an old crush's annoying friend) was joking, but the other guy took him seriously. My classmate and I were shocked and he wanted us to drink some, but we said no. He called us cowards. Then it was time to walk to the S-Bahn, it was about midnight. I didn't bring a jacket with me and Munich/Feldkurchen was cold at night. My classmate saw that I was a bit cold, he hugged me a bit and then gave me his jacket. He was only wearing a short sleeve shirt and I said, "I really don't need it. You look cold too." But he told me that he wanted me to wear it for the walk back to the hotel and he said he was not that cold. I thanked him so much. When we got back to the hotel I handed him back his sweat jacket.
The next day we took the tour bus into the city and took a tour. The buildings were amazing. After the tour we were allowed to walk around the city. Two other classmates joined us; the one was awful. When it came time for me to try on the German dress the boys had to come in and sit around. I was trying on dresses for about an hour. My classmate's friend got annoyed with me, my classmate didn't care same with the two other guys because they were enjoying it way too much. I finally found a dress that fit me and I bought it. I brought mostly credit and travelers checks with me, but most of the stores only excepted Euros. I only brought 70 euros and I spent them all on the store before the dress shop (thinking they would take credit). My classmate brought mostly Euros and I asked him if he would lend me the 70 and he said it was not a problem. I did have some Euros left, but when we went to lunch after the dress shop we paid our own bill. I ordered in perfect German.
We then went back to the Residenz and into the museum. My classmate and I broke away from his friend and we explored the museum on our own. We were there for a good two hours, then we left to go home. On the bus I called mom and told her about my predicament with the Euros. She said that she would try to wire me some money if I couldn't get to the bank. I told her it was 5 in Germany and the banks closed at four. She told me not to worry. That night we went to the Hard Rock Cafe for dinner. It was interesting to say the least, then we walked around the city. The city was beautiful at night.
Days 3 and 4 -- April 3 and April 4
On April 3rd we went to visit Neuschwanstein castle. That castle was so beautiful, then we were on the bus for several hours before stopping at Tyrol; then the hotel on the Alps. The Alps were breathtaking, but the hotel sucked. It was dirty and filled with drunk British people (since the drinking age in Britain is also 16), but most of the people on the trip didn't mind (the girls were flirting with the guys). The disco was also very awkward for Timmy and I... we sat around and talked. He complained about Matt because Matt only talked about crew, school and work; he didn't know how to have fun. That is when he started getting jealous of me because Timmy was hanging around me a lot and he stayed in his room that evening. Oh, yeah, before we got off the bus to go into the hotel Timmy and I talked about Justin. Timmy said he agreed with me on just being friends with him since he has a girlfriend, but Justin and I should hang out more because it wouldn't seem awkward. He then asked me if I was going to Junior prom, I said no because most of my friends don't want to go and I want to have a girls night out. He then asked me fi freshmen could go and I said yeah because last year many freshmen went to the senior prom and he replied, "cool."
April 4 we took tours for Innsbruck, but Matt was selfish and didn't want to see anything but a motorcycle shop that took a half an hour to walk to (we only had an hour in the city, then he is slow and bought lots of food we had to watch him eat and we had to stay in groups). On the way back from the shops, we stopped at the Police station and the police officer was a good sport by letting me get a picture with him. When we made our way back to the bus to be with the rest of the group, Timmy and I then shared his Ipod. We were listening to Mindless Self Indulgence a lot and we listened to a lot of other things on his Ipod. He wanted me to listen to Gym Class Heroes, and I said, "I want to listen to the song after this one," and it turned out to be "Cupid's Chokehold." When we arrived at our destination, I tried a doner kebab, which is a Turkish gyro. It was so good!
That was the day of Kurt and Layne remembrance. I can't believe I forgot my Kurt shirt. Anyway, that was the tour of Switzerland day and a lot of Swiss boys were wearing their Kurt shirts. I gave them a rock on and they knew I was a fan too. The tour of Switzerland was very beautiful and interesting. After the tour we went shopping. Timmy and I went with Herr Skonier and a bunch of other people. Matt hated Timmy and I and we needed at least three people. While looking for a Doner Kebap eatery Timmy and I stopped in a gift shop. I bought a Switzerland tee for my mom and I bought myself the Swiss flag. We then met Herr Skonier, Tina, Emma, her dad and a bunch of people then walked to the Doner Kebap place. After lunch I realized I left my camera at that gift shop and I told Skonier. He told the others he was going to take me back and Timmy came along too. Timmy told me, "I rather go with you and help you find your camera then stay with those other people. " So we walked back to the store and Herr Skonier asked me if knew the words for I, think, camera, and others so I could ask in German. I knew most of them. When I walked into the store I didn't have to say anything because the lady said, "I thought you would be back." and handed me the camera. I was relieved and aid to Skonier and Timmy that back in the US that would not have happened. See, thats why I loved Europe , the people are so nice and everything is a t a slower pace and people are more responsible. Then Skonier, Timmy and I walked around more shops for four hours. It was just so nice without Matt complaining; Timmy agreed. Later Timmy, Mr. Doyle (Tina's dad) and I walked around the city while the others went to play soccer. He said to us, "I'm glad you came. You two are the only few to appreciate this trip and you two are so nice." We walked a whole bunch; the internet cafe was closed (since Friday was good Friday and shops closed early) and then we went to the castle all the way on a steep hill. It was just beautiful. When it was time to go back to the hotel we were a bit lost. Swiss has three main languages and each time I asked for directions it wasn't a German person. We finally found our way back, though. When we arrived back to the hotel, it was someone's birthday and we celebrated their birthday.
The last day we went to the Black Forest and I bought my parents a cookoo clock and had it shipped back. My stein and their cookoo clock should arrive in 2-4 weeks. I then treated Timmy to lunch since he was about broke (I did pay him back for my dress... he only wanted 50 of it, and he spent a lot of money on souvenirs). We then stopped at Heidleburg and took a tour of the city. It was so beautiful. Then we went to the hotel and left the next morning. I really want to go back to Germany—Germany

was a beautiful country and contrary to popular stereotypes of Germans being cold and distant, I didn't find that at all. I thought most of the people I met in Germany were really nice; warm and welcoming.
As I was walking, I remembered how obsessed Timmy and I were about the doner kabobs. They're really gyros, but all the Turkish stands were selling them. We kept ordering and eating. I remember the Turkish men and women being really nice and I remember their big smiles in their broken English and German. I remember I couldn't really communicate with them since I didn't know Turkish back then (well, I still don't really know Turkish now).
I also remember being in Austria on the anniversary of Kurt Cobain's and Layne Staley's death and everyone was wearing Nirvana shirts. It made me sad that I didn't bring my Kurt Cobain shirt because I would have worn it. I remember commenting on some shirts in German and the young people wearing them thanked me - in German. :) It was cool because most of the locals spoke English to us. There were some spots I could speak in German.
I would love to go back to Germany. I loved Germany and for the longest time I wanted to live there. I still have dreams at times about going back and seeing more things I couldn't see with the school. I'd love to go to Berlin and Dresden. I liked Munich and I really liked Rothenberg - I'd definitely go back there too.
Sadly, since I deactivated my Facebook, the only album I have of my Germany trip is on Writing.com. You can view it here:
Mein Urlaub in Deutschland
.
I was looking this morning to see if I had any of the Germany pictures saved on my RitzPix (Ritz Camera) account or on my Walmart account, but I didn't. (Don't worry, I still have all of the Germany pictures in hard copy - I took 300 beautiful pictures and I printed them all in 2007.) I found a whole bunch of pictures from 2009 and 2010 that I can't wait to write about and share with y'all. I also found these two pictures:
Barb, Joyce's mom, took these two in June 2010 at Mat's 4th grade moving up ceremony. I brought Wesley along since this was when I first created his Facebook account. I wanted to get some profile pictures. Barb snapped one of Joyce, Wesley, and me together. The 2nd picture was going to be for a flash back picture. I graduated from this elementary school in 2000. I have the picture of me in 2000 standing in the same spot. This picture is me, 10 years older, in 2010, standing in the spot - but alone.
Here's the one from 2000, when I moved up (or graduated) from 4th grade to 5th grade: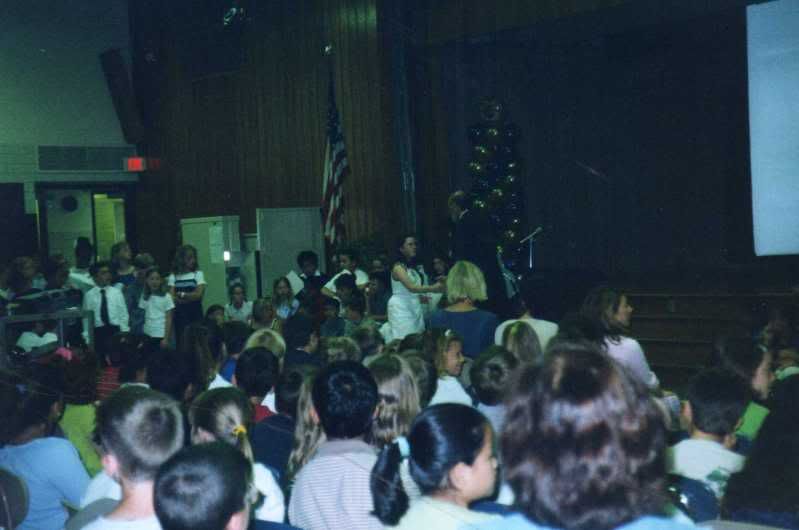 Maybe a better shot of me in 4th grade... a few weeks shy of turning 11. Wow, it's hard to believe this was almost 15 years ago!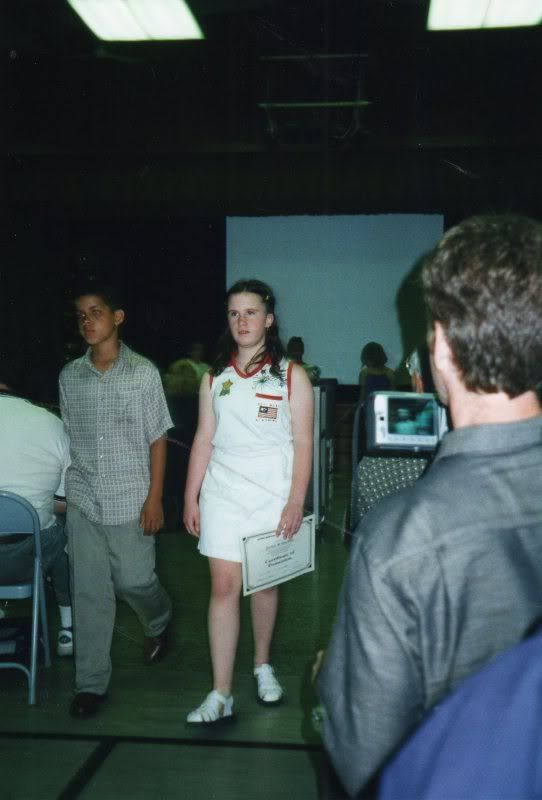 Travis (the boy I'm walking with) looks so enthused, doesn't he? The cafeteria was hot that day.
Sometimes trips down memory lane are fun. Can't wait to share more with you!