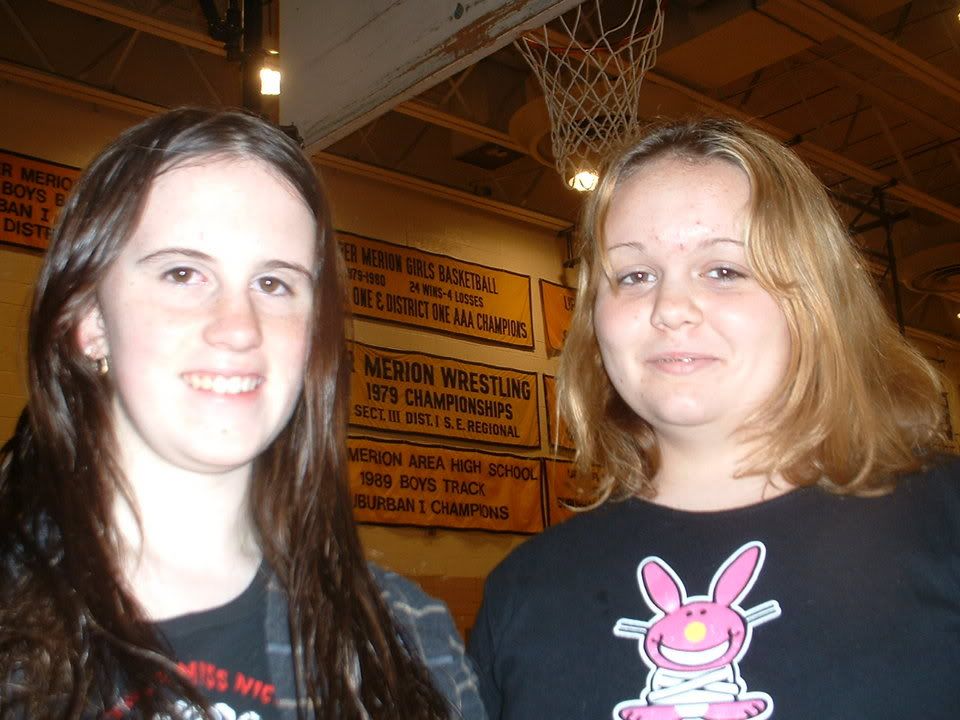 Today is Liz's 25th birthday. Although we've had our ups and downs, she's been my best friend since fifth grade (2000). I haven't seen her in four years since she moved to Alaska, but I would love to take a trip to visit. I'd love to see her, meet her fiance, and see Alaska since I've never been there.
The above picture is of us after a swim class in 2004. We were in ninth grade and it was such an interesting year. Between music and celebrity crushes, it was always interesting and laugh-worthy. I remember one time at a sleep-over, we pretended to be ghosts to scare the other guests. It worked. I remember endless listening to Kittie, especially "Jonny," endless Metallica listening and copying Mark CDs since Mark was a HUGE Metallica fan. But, one memory that sticks out in my memory is November 2002 when we hung out at Liz's house. We were listening to Q102 and Liz's boombox had a dubber and she thought it would be a great idea to copy some songs from the radio for a mix. She had some cassettes, so we decided to make a mix from the radio. This was when my crush on Eminem was fading (welcome Johnny Depp and 9 months later, Jamie Madrox), but "Lose Yourself" was very popular. We both loved that song. It came on Q102 and she rushed to dub the song because it was a must. I think we both struggled with dubbing it and finally figured it out a minute into the song. We just laughed and then played in her backyard (she biked and I skated on the driveway she had back there). We didn't rap the song, but we talked about how we wanted to see the movie. I was 13 and she was 12, so I don't think we could have in theater - we had to wait until it came out on video. We were both bummed out we couldn't see the movie and we hoped it wouldn't take "a gazillion years" for it to come to video. After "Lose Yourself" stopped playing, "She Hates Me" by Puddle of Mudd came on. We both LOVED that song as well. We both started rocking out to it and she filled in the edited parts with the unedited parts. We even reenacted the music video. Fun times and those are the memories I love. Especially the Guitar Hero memories.
Happy birthday, Liz!