On Saturday, one of mom's friends from high school had a Halloween bonfire. She lives in Morgantown, which is about a 45 minute drive from King of Prussia. I was going to go to that party as the monster I was two years ago, but the shirt from that costume was way too big (I shrunk from an XL to a M).
Me as the Monster in 2012...
The Walmart in King of Prussia didn't have short sleeved shirts since it's getting close to winter; I decided that since I was going to dress up as Monoxide on Halloween, I would dress up as Monoxide for the party. As I was getting ready, I realized that I gave away the black hat I used last year. Monoxide is also a Tigers fan; I had a dark navy Tigers hat and went with that instead. I think it worked! The face paint I bought this year from Walmart, I really liked it a lot better than the face paint I used last year - less cakey!
Here's a close up. Haha, I look creepy here!
When we arrived at Darlene's (mom's friend) house a little after 5:30, mom introduced dad and me to Darlene and her family. I talked to her niece that was around my age. She was dressed up as a Renaissance queen and she was really nice. This young couple commented that I had to be some sort of zombie Tigers player and the girl loved it because she's a huge Tigers fan. We got talking - she's a huge Michigan fan and her aunt lives in Lansing. She really loves Lansing and loves visiting. She asked if I was from Detroit and I said, "Nah, but I visited this past spring and enjoyed my time there. I'd like to go back and see a game. I'm also a Tigers fan." She wanted pictures with me, so mom took a picture with my camera, her cell phone camera and I think mom took one with her phone.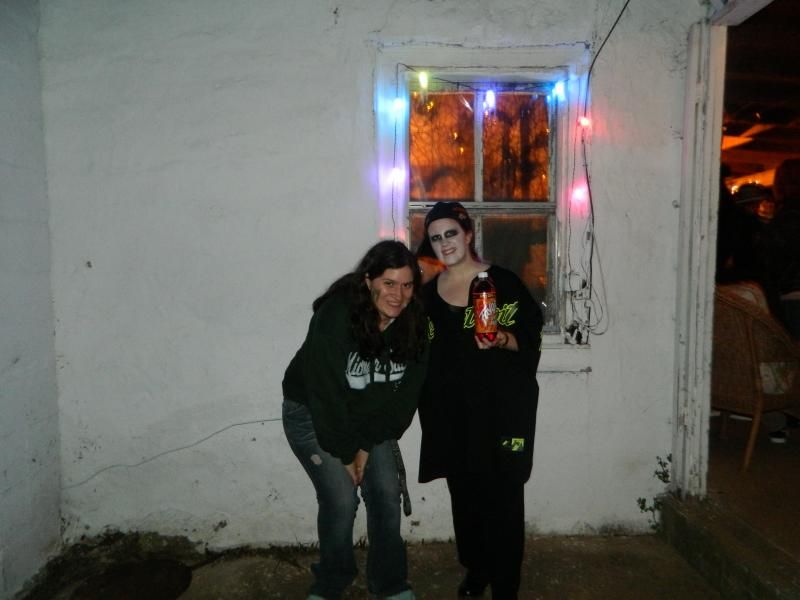 Of course Monoxide had the Faygo! I love it and I wish it was sold around here. I think I might put a case of Faygo on my Christmas list...
I was assigned as the photographer of the party since I had a professional camera. We only stayed until 8:30 since I had to dog sit, but it was a great time. I met a lot of nice people, especially the guy dressed up as the sniper. The food that people brought was pretty good. I especially enjoyed the pumpkin with alcohol. I have no idea how it was made, but there was vodka in there. My guess is, it was one of those pumpkin pie pumpkins and she just added vodka to the innards. I like sweet drinks and it was the right consistency of sweetness.
Monoxide and the Sniper.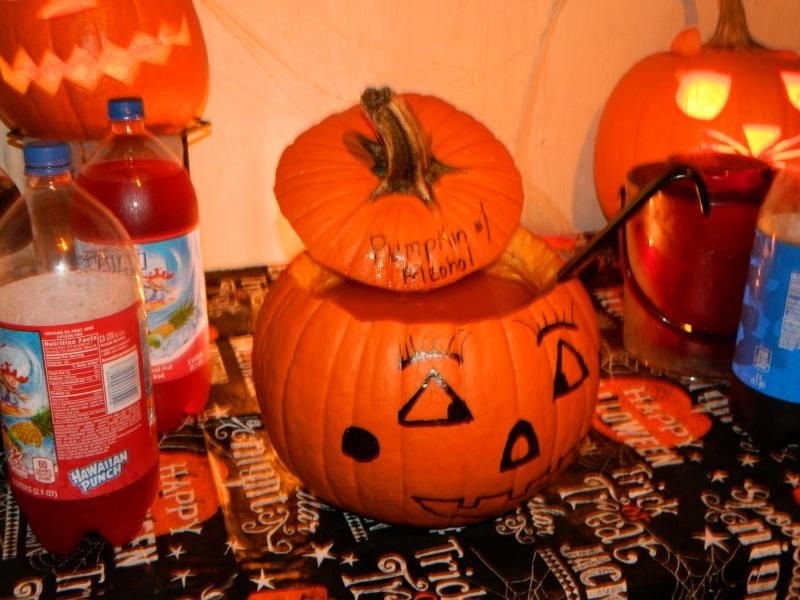 The bonfire was also raging. It was really intense and really hot. I stayed back, near where the band was setting up to play. I don't like being really hot, but the way the bonfire illuminated the air was really pretty! People also really liked my costume, much like last year.