I will be sending out Halloween cards to my friends this year (if you would care for a card, send me an e-mail to nose.pierced.beauty89@gmail.com with your address) and I did buy a set of six cards. However, I have mini cards that are blank and I can fill with my own pictures. I wrote a poem for the following picture (this card is for Christina):
Tonight's the magical night
where witches take flight
and children in silly masks
go door to door and ask--
and are rewarded in sweets:
pumpkins' glittering lights
wishing you a Halloween so bright!
I'm going to give this following picture to Monoxide with the following saying (I did get him a special card, but it's a construct it yourself skeleton that simply says "Have a frightful Halloween!" or something like that... I can't put a note on it and a lot of my small paper is from Sanrio -- it's perfect for a pre-teenage and teenaged girl since I bought the paper when I was 13):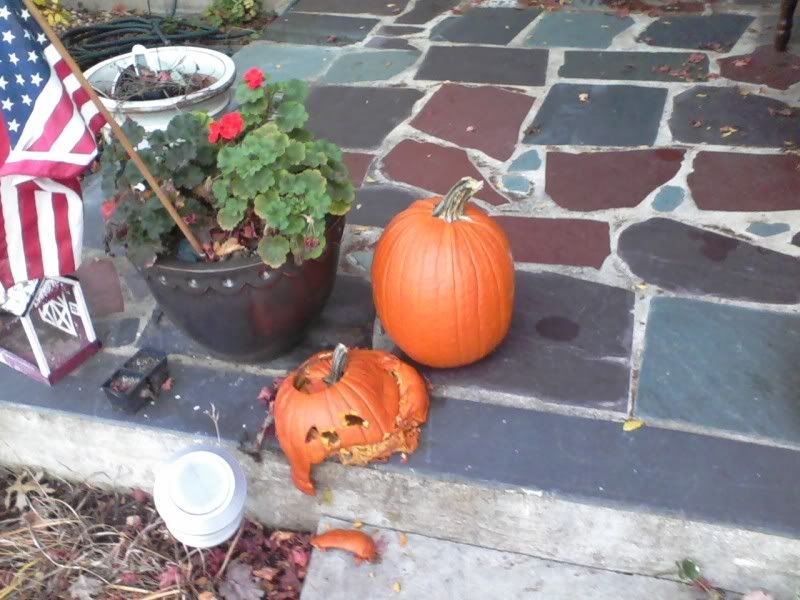 Hope you don't melt from the frightful sights or smashed from the witch's brew.
The other two are general Autumn. I love this picture I took the other day from Green Lane Park:
Today as I watched the Autumn sun rise,
wind rustling, red and orange leaves fly--
sailing on the water so blue
watching the rainbow reflect
the final days before winter connects.
I hope today you will let the wind
take you on a journey and for a spin,
scents of cinnamon and apple circle you
in all of your dreams and wishes come true.
What do you think of these three sayings?
Oh! And that melting pumpkin dude, I took that picture in November 2010 at my aunt's house. I was pet sitting for her and I saw the pumpkin dude melting: I had to snap a picture! I thought it was so cool! I took it with my phone at the time and I'm glad I saved it to Photobucket. :) One of the best pictures ever regarding Halloween.