10 Secrets You Never Knew About Clouds
The reminds me of a shirt I used to have in high school that said: MY LIFE AS A CLOUD. I thought it was a creative, funny list and it made me chuckle.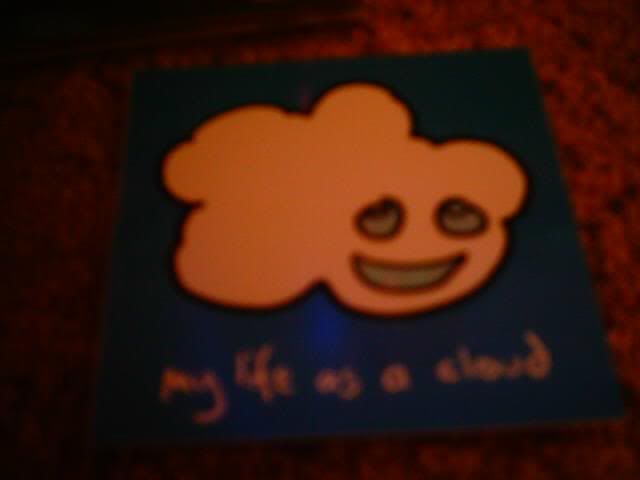 Ah, my first camera was so bad. Anyway, this was from Christmas 2005... I still have the stickers (just not the shirt, I don't think).
But, look what else I found in this album: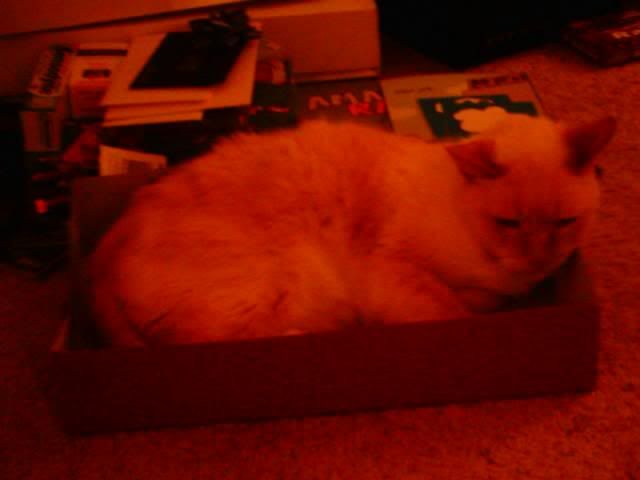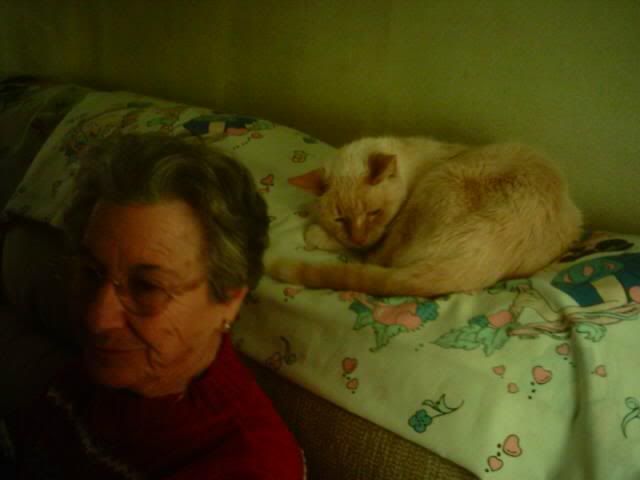 Awww, Woo and then nan and Woo. Woo died in November 2007 after having him for 19 years. I miss them both. :(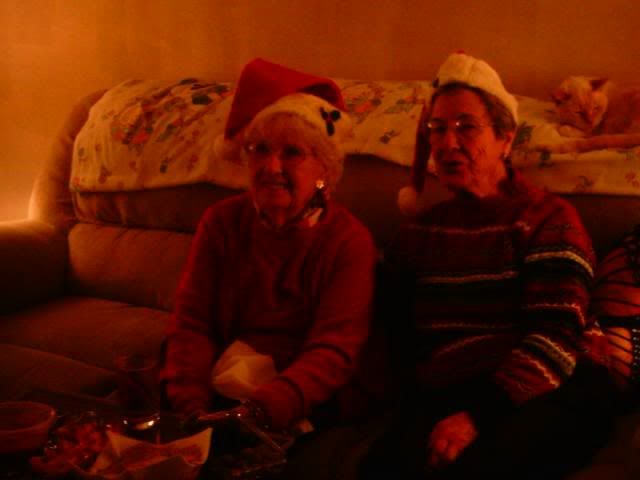 Nan, Great Grandma Mary (mom's grandma... she died at age 99.5 in November 2009) and Woo.
I'm looking at the Midwestern and Southern cookbooks I borrowed from the library to continue the recipe book I started. This looks good:
Lobster Savannah
Total Time:
1 hr 15 min
Prep:
30 min
Cook:
45 min
Yield:2 servings
Level:Intermediate
CATEGORIES
Shrimp Dinner Southern
Ingredients
2 (1 1/4-pound) lobsters
8 ounces Newburg Sauce, recipe follows
8 ounces sea scallops
1/2 pound small shrimp, peeled and deveined
4 medium mushrooms, sliced
10 slices aged provolone
2 whole roasted red peppers, sliced
2 whole roasted green peppers, sliced
4 ounces Parmesan, grated
Directions
Preheat an oven to 350 degrees F.
Take the lobster, place it stomach side down on the counter, and with a heavy knife cut the lobster in half starting behind the head. This kills the lobster by severing its spine. If you are not comfortable ask your local fish market to cut it for you.
In a large saucepan add about 4 ounces of Newburg Sauce and put on low heat. Add the scallops, shrimp and sliced mushrooms. Cook until seafood is halfway cooked, about 5 minutes. Place scallop and shrimp sauce over each half of the lobster and top with slices of provolone. Add slices of roasted peppers and top with fresh grated Parmesan. Cook until golden brown, about 18 minutes.
Newburg Sauce:
1 1/2 tablespoons all-purpose flour
2 teaspoons paprika
1/2 teaspoon salt
1/4 teaspoon black pepper
1/4 teaspoon cayenne pepper
1 1/2 tablespoons unsalted butter
1 ounce dry sherry
1 cup half-and-half
In a medium mixing bowl, combine flour, paprika, salt, pepper and cayenne pepper. In a medium sauce pan, melt the butter over low heat. Add the flour mixture to the melted butter and stir constantly. Add the sherry to the sauce and continue stirring until it thickens. Add the half-and-half and heat through, continuing to stir. Serve with Lobster Savannah.
Read more at: http://www.foodnetwork.com/recipes/lobster-savannah-recipe.html?oc=linkback