Well, my poor Packers lost. :( But, that's okay because my Super Bowl party this year is celebrating the whole NFL. See the invitation: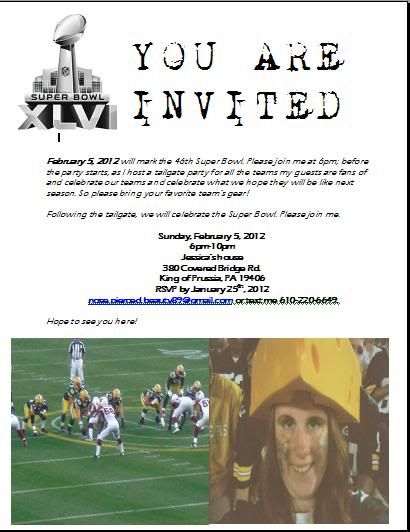 February 5, 2012
will mark the 46th Super Bowl. Please join me at 6pm; before the party starts, as I host a tailgate party for all the teams my guests are fans of and celebrate our teams and celebrate what we hope they will be like next season. So please bring your favorite team's gear!

Following the tailgate, we will celebrate the Super Bowl. Please join me.
I have some cool games planned. :) Like a relay race using cups, a timing game with signing of t-shirts and undies, and a guessing game of who can name the most football and college football logos. More updates later.