Seven Years
Seven years,
can you believe it has been
Seven years?
The lingering tears
that dance with my eyes,
Seven years—
jabs and sneers
the clock's phantom;
Seven years!
His eyes still jeer,
no remorse in the grave,
Seven years!
The world forever fears
that depraved act, never changes—
Seven years;
if only we had seers,
then we would not be at a loss
seven years
later, we still mourn and wear
the cold blackness of earth
that has held our beloved;
Seven years!
Today marks the 7th anniversary of Dimebag's death. I can't believe it has been seven years already. I remember it like it was yesterday—I was a freshman in high school, going through a really depressing time and then my dad and I were driving home. I got into Pantera six months prior and was listening to WMMR when the news broke. The sky was gray, it looked like the sky could burst open with snow at any minute, and it was freezing. I was stunned to hear and I reeled in the news for a while (like with Jim's death, actually, just like Jim's death… which Monday marked 9 months). I made a CD commemorating his life and handed them out. I was in a daze for a while and Pantera played for Spongebob, so I think they commemorated him on Spongebob (though the kids wouldn't have known).
Evidently, today would have been my great Aunt's birthday. She passed away in August 2010.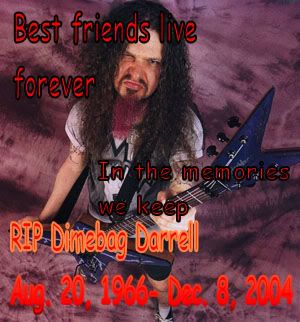 I made this in 2004 right after he died.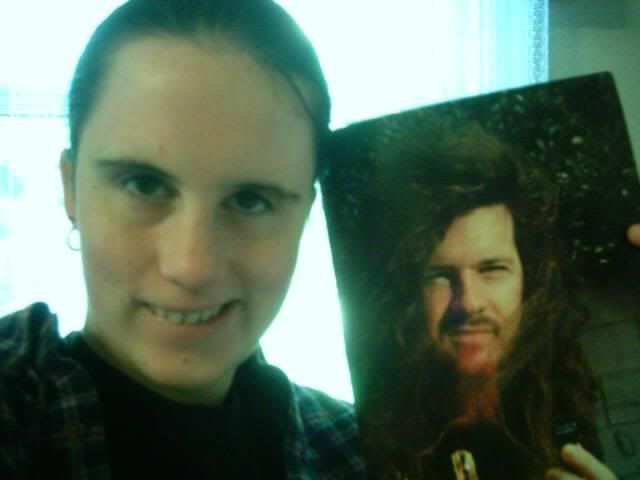 Me at 16, at the 1 year anniversary.